History of the BOD POD
Development of the Bod Pod began in 1990 with assistance of Small Business Innovative Research grants awarded to LMI by the National Institutes of Health (NIH), the most prestigious health organization in the world. Since its introduction in 1994, numerous research and trade publications have validated the accuracy, reliability, and ease-of-use of the BOD POD and its air displacement technology, with many researchers considering it the "gold standard" of the body composition assessment.

Be Fit-Test, LLC. believes that accurate assessments lay the necessary ground work for change. By correctly identifying areas of risk, proper intervention can be introduced and the results monitored. This innovative measurement technology helps improve health performance, and quality of life.
What Makes The BOD POD So Accurate and Easy

Air Displacement Technology

The BOD POD is an Air Displacement Plethysmograph (ADP) that uses whole-body densitometry to determine body composition (fat vs. lean). Similar in principle to underwater weighing, the BOD POD measures body mass (weight) using a very precise scale, (accurate within a gram) and volume by sitting inside the BOD POD for two fifty second increments of air measurement. Body density can then be calculated.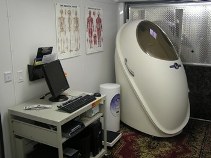 The BOD POD Body Composition Tracking System uses patented Air Displacement Technology for determining percent fat and fat-free mass in adults and children. The simple test consists of measuring the subject's mass (weight) using a very accurate electronic scale , and volume, which is determined by sitting inside the BOD POD chamber for two fifty second air measurements. From these two measurements, the subject's body composition is calculated.
(sample test results).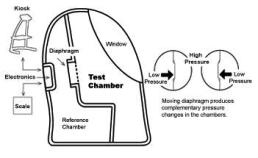 The BOD POD consists of two chambers. The front, or Test Chamber, is where the subject sits and is comprised of a seat that forms a common wall separating it from the rear, or Reference Chamber. During the brief data collection period of the volume measurement, the chamber door is secured by a series of electromagnets and a gasket. A Diaphragm is mounted on the common wall, which oscillates during testing. This causes small changes in volume inside the chamber, of which the pressure response to these small volume changes is measured. This is done by measuring the interior volume of the empty BOD POD chamber, then measuring it again when the subject is seated inside. By subtraction, the subject's body volume is obtained. For example, if the interior air volume of the empty chamber is 400 liters, and the volume of the chamber is reduced to 350 liters with the subject inside, the body volume of the subject would be 50 liters.

Once the subject's mass and volume are determined, body density is calculated and the relative proportions of fat and fat-free mass are determined.



A BOD POD body composition assessment is extremely simple, comfortable, and takes only about 5 minutes (less than two minutes inside).
Prior to testing
,
clients should not work-out 2 hours prior, eat/drink 1 hour prior to testing. It is a volume test, so we want you going in as small as possible. Attire is Spandex/Under Armour type compression clothing. Swim cap will be provided.

Clothing, hair, jewelry, and eyeglasses can have a significant impact on the volume and mass measurements performed during a BOD POD test. Therefore, it is EXTREMELY IMPORTANT that all subjects tested in the BOD POD remove all jewelry and eyeglasses, and wear minimal, form-fitting clothing such as a Lycra® or Spandex® swimsuit during testing. Single-layer compression shorts and/or lightweight jog bras are also acceptable clothing (without padding or wires). A swim cap must also be worn to compress any air pockets within the hair.


Test Sequence
Information from the Client Information / Waiver form is entered into the computer.

The BOD POD validates/calibrates(for every test).

The subject's mass/weight is measured using the integrated digital scale.

The subject's body volume is measured while sitting inside the BOD POD.

Test results are printed instaneously.
Subject compliance for testing in the BOD POD is very simple. They need only to sit comfortably and quietly inside the BOD POD for two brief 50 second measurement periods (no talking or laughing). Sounds relating to valves opening and closing may be heard, but most subjects are unaware of the slight pressure changes that take place during a BOD POD test. A few people have noted a feeling similar to that of moving from the first to second floor in an elevator or intial take-off in an airplane.

Test Results

Test Information is coupled with data loaded into the system from the Client Information / Waiver giving an accurate reading of Resting Metabolic Rate (RMR) and Total Energy Expenditure (TEE) valuable caloric information vital to planning a fitness program.

Individual Rates: $50-$75 per person (Locations ultimately set their own price)
Gyms, Corporate Fitness, Nutritionists, Clinics, Researchers: Contact us for special pricing, packages and scheduling.

Please email Matt@BeFittest.com for a schedule of events.

Click here to download "Client Information Form".
Once the form is completed it is submitted and sent to
Matt@BeFitTest.com
For more information view our FAQ's page.